Sometimes, it's hard to tell whether your Cranston roofing system requires repair or not. After all, if you're like most homeowners, you don't spend the majority of your time gazing at the roof. The best way to keep an eye on things is through routine maintenance with a licensed contractor.
However, if you notice warped shingles, chimney problems, or anything else that appears a little off, you should call a contractor, even if it is before your scheduled inspection. Let's explore seven telltale signs that you require roofing services in Cranston.
1. Got Roof Leaks in Cranston? You Probably Need Roof Leak Repairs
When water is drizzling into your dining room through the ceiling, it is safe to assume there is a leak within your roof's structural workings. It is essential you reach out to a local contractor like The Cranston Roofers to perform an assessment of the area and pinpoint the root cause of the problem. Do you know that ignoring roof leaks leads to other structural damages? If left unchecked, leaks can rot wood, destroy walls and ceilings, and even cause destruction to electronics and flooring. Therefore, it's always best to fix roof leaks as soon as they are discovered.
2. Missing Shingles: A Sign That Your Roof Requires Servicing
When it comes to missing shingles, asphalt is the most common to be seen lying in the yard. One or two shingles every couple of years isn't anything to be overly concerned about. However, shingles blowing off your roof after every rain or windstorm are problematic. Replacing your own shingles can be done on a DIY basis, but it's must more cost-efficient and safe to have a  professional contractor perform the job. It's normal for home or business owners to overlook their roof's needs, but once they start seeing shingles in the landscape, they realize it's time for an intervention.
3. Gutters That Are Filled With Debris Signal a Roofing Issue
Full gutters aren't typically the cause of a roofing problem per se, but they can cause problems with your roof. Your gutters exist to allow excess water and debris to roll off the roof and through the gutter system, where they'll end up on the ground. When the gutters are full, they become backed up and weighted down, which can lead them to break and fall. Plus, they won't be able to receive any liquid, twigs, or dirt from the roof, which is problematic.
4. Cracked or Buckling Roofing Shingles in Cranston Need to be Addressed
When shingles become old and weathered, they tend to warp and crack. Unfortunately, many property owners notice this happening once the warranty is expired or when shingles have been improperly placed. Typically, when contractors notice that sort of a problem, they recommend total replacement of the roofing materials. 
5. Do You Have Dark Patches On your Roof?
Did you know those dark areas on your roof are caused by water retention and moss growth? Sometimes, those patches can even be associated with mold, which is a significant health hazard. When moss or mildew is growing on your roof, you must call a licensed roofer right away to have the area repaired to avoid further damage incurring. Are you trying to sell your home? A moldy roof will never catch the eyes of potential buyers.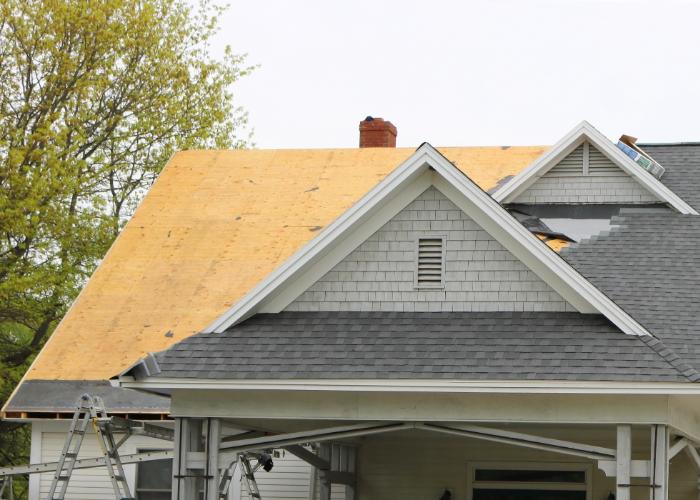 6. When the Attic is Bright, There's a Problem with Your Cranston Roof!
Have you recently ventured up into your attic and noticed it was eerily bright up there without the lights on? If you're seeing sunshine poking through cracks in the ceiling of your attic, that is a clear indication your roof has cracks. That is an issue that requires repair ASAP to avoid rainwater, birds, and vermin from entering your home.
7. When Your Utility Bills On the Rise, Check the Roof
Does it seem odd that your energy costs are increasing every month? You've called your service provider, and they claim they haven't raised their prices, so what gives? We are willing to bet that your Cranston roofing system is in dire straits. If you have an older roof, chances are the materials are not optimized for energy efficiency. Roof replacement can fix that problem instantly.
Who are The Cranston Roofers?
Since the early 2000s, The Cranston Roofers have been repairing, replacing, and building new roofing systems for residential and commercial customers. Our company is fully licensed, bonded, and insured and holds a GAF-certification. In addition, we offer 24-hour emergency roof repair for when you need us most. Please call our team at (401) 208-2324 to schedule a FREE inspection and estimate.